House Cleaners in Kelowna Show You How to Give Your Home a Facelift
How often do you come home after a long week of work and think for the hundredth millionth time,  I really need to do something to make my home feel more welcoming and updated?
The All About Details Cleaning team did some digging to help you transform every room in your home with these 5 simple and inexpensive tips and projects.
1. Painting
2. Visible Storage
3. Ceiling Finishes
4. Dress-up your Stairs
5. Upgrade Fixtures
These ideas will give your house the facelift it needs to increase your home's value and create more modern and welcoming spaces without breaking the bank.
1. Paint, Paint, Paint!
A coat of paint can refresh and update almost anything. Painting your walls, cabinets, window frames, floors, doors, even your bathtub, can bring an outdated room out of the past and into the 21st century. Painting walls and cabinets in a neutral colour will brighten and clean up any room.
Repaint your front door for a clean focal point and welcoming vibe. Old window frames can be cleaned up too. Over time window frames will become discoloured around the windows. Take a look at this easy fix that The All About Details Cleaning team absolute loves!
Do you have old tile flooring or an old bathroom appliances that are in good condition, but have discoloured or become outdated over time? This is a great cost saving technique to increase the life of perfectly good tiles and appliances. Read Kelly's blog Painting Tile Floor Tips for tips for details, and the DIY network tips on painting bathtubs for proper painting tools and techniques.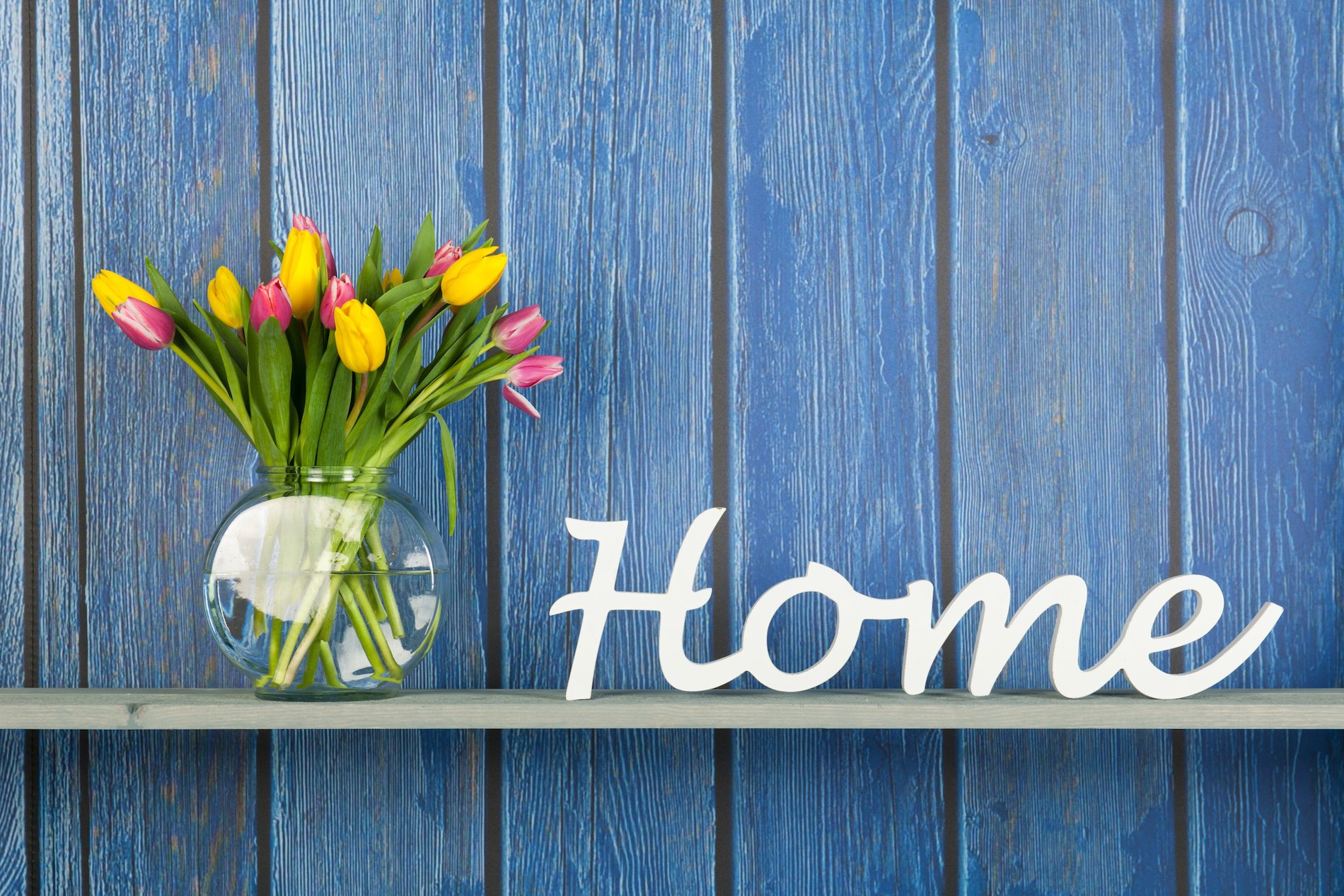 2. Add Visible Storage
A lot of older homes lack storage space, while many newer homes have everything hidden away. Minimalist, visible storage is a great addition to any room. A couple of shelves in the living room to display art pieces and plants, or in the bathroom for tissues, plants, and a scented air freshener gives any room a clean focal point without adding clutter. For great plant ideas, read our blog on Cleaner Air Home Plants. The key is choosing simple shelving and a few display pieces or baskets to keep items neatly contained.
3 From the Top Down
Adding crown molding, removing popcorn ceilings or installing ceiling fans are great ways to give a room a facelift. Crown molding is at the top of most renovation lists because it's an easy and inexpensive way to add charm to your home. All The Details Cleaning team loved this comprehensive guide on How to Install Easy Crown Molding.
Removing old popcorn ceilings is another great way to give your house an update. A clean ceiling will add a modern touch and make your home feel more spacious and tidy. For tips, read Family Handy Man's blog about Removing Popcorn Ceiling.
Finally, adding or updating ceiling fans will give any space more charm, while also allowing more circulation. Plus it is a great way to save money during the summer and winter months.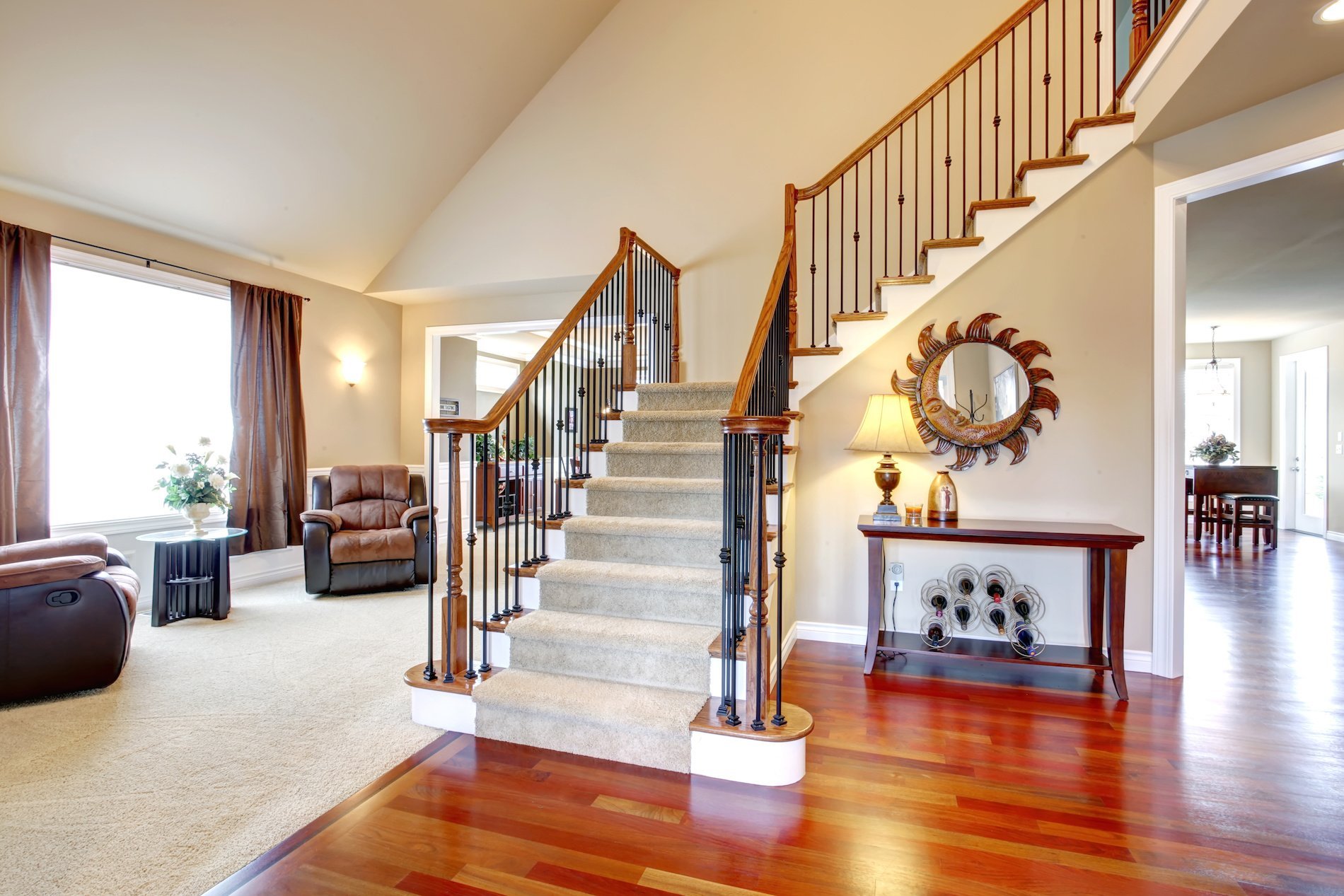 4 Dress-up your Stairs
Add architectural charm with decorative stair brackets. Updated stair brackets will transform a bland stringer into an elegant eye-catcher.  
(copied: The newel post and balusters get all the attention, while the exposed side of most staircases is largely ignored. But with the addition of decorative stair brackets, a bland stringer can become an elegant eye-catcher. Here's an affordable, and simple-to-install guide. 
For a simpler update, add eye-catching stair runners. They look great, can be customized to suit your design, and can cover slippery stairs. For tips, read the Low Cost Stair Runner Installation Guide for detailed tips and techniques that have everyone at All About Details Cleaning drooling!
5 Upgrade Fixtures
Replacing items such as light fixtures, cabinet handles, doorknobs, and kitchen or bathroom taps can breathe new life into any room. If you have an outdated chandelier or old fixtures throughout the house; update them now with more modern styles, or for taps and handles, paint them for a modern look.
If you're looking to do some of these quick fixes and renovations to give your home the facelift it needs; contact All About Details Cleaning for all our cleaning services. We can give your house a complete clean before, after, and in between your renovations to ensure your house looks its absolute best. We work with you, and with your budget so you can invest more time and money in revamping your home.